Next generation dashboards
Next generation dashboards is the result of rethinking and re-engineering dashboards from scratch over the last few months to provide a better synergy between dashboard widgets and integration devices.
Almost from the beginning, HomeHabit had a consistent integration flow between dashboard widgets and devices - predefined widget types with properties that can be bound to loaded integration items, which are representation of platform and service devices.
This integration flow worked great for most integrations where majority of smart home devices have similar functionality. However, as the number of integrations grew, and platforms like Home Assistant expanded their functionality, the app began to reach the limitations of this setup. Making changes in mapping of all available devices to common denominator widget configurations became harder and harder. Widget setup was also getting more complex to be able to provide various options for integrations with different capabilities. There are also some widgets that never fit the existing model of integration data sync, like charts, and just couldn't be integrated efficiently.
The next-gen dashboard widgets will be integration specific and have streamlined setup process. Widget configuration will be adjusted based on integration capabilities, so it is less complex for a user to create new widgets. It will also open up new possibilities like creating a chart widget using device history from Home Assistant, a button widget to call any Home Assistant service, or a room widget with all of its devices - in just a few taps.
Next generation dashboards will be first available on iOS. Later, it will be added as an option for new dashboards on Android. Next-gen dashboards are not backwards compatible, so it is not possible to migrate existing widgets. Eventually existing dashboards will be deprecated.
Next-gen dashboards will also bring many commonly requested features such as:
Overlay dashboards
Configurable widget actions (single tap, long press)
Custom text and fonts
And much more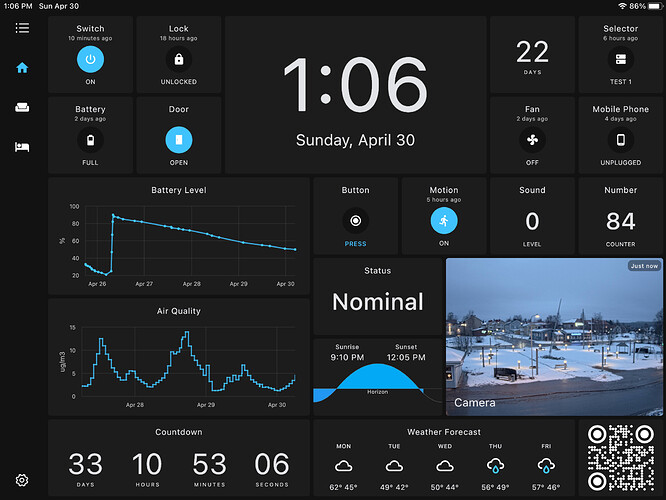 iOS preview
HomeHabit for iOS is back!
The upcoming version has been improved and almost completely rebuilt. iOS version will only support next generation dashboards, and will have limited number of features available at the beginning.
The upcoming release is a very early preview, intended only for enthusiasts who want to try it early and provide feedback. It should not be used as a main way to interact with your smart home at this time.
Functionality available in the first preview release:
Standard widgets (5 widgets)
Home Assistant integration (10 widgets)
Dashboards with up to 3 pages
Special iOS Beta license without feature limitations
Test Flight
iOS preview builds will be available later this week through Test Flight: https://testflight.apple.com/join/KbpFHzx0
New integrations
New integration development has been currently on-hold until the next generation dashboards are ready. There will be more integrations coming when it is resumed later this year.
Stay tuned for more updates soon.