Would be great to have the legacy volume and mute controls on the Media widget.
Is this planned or maybe already implemented? I can't find a convenient and fast way to change the volume of my main receiver (playing Spotify or TV)
This is planned for Media widget.
@izeman Meanwhile, could you just bind volume to a regular Dimmer widget?
@izeman i see, let me check if there is a bug with matching Home Assistant media component.
I guess not, HA itself doesn't show any volume entities. You need to call services like "media_player.volume_down".
ah, i was thinking that slider in the middle of a screenshot is for volume
Nono. It IS a volume slider, but there's no ENTITY for slider.

Many things can go wrong when writing only …
It should be available for dimmer, just checked. Maybe that media component has some different attributes. Can you copy what attributes you see for that entity in States for your HA (/dev-state URL)?
Right now it's source is VDR, and not spotify, but it's quite similar
volume_level: 0.46
is_volume_muted: false
media_content_type: channel
media_title: VDR
source: VDR
source_list: AUX,Bluetooth,Favorites,Internet Radio,Media Player,Media Server,Online Music,Spotify,TV Audio,Tuner,VDR
sound_mode: DOLBY DIGITAL
sound_mode_list: MUSIC,MOVIE,GAME,AUTO,VIRTUAL,PURE DIRECT,DOLBY DIGITAL,DTS SURROUND,MCH STEREO,STEREO,ALL ZONE STEREO
sound_mode_raw: Dolby Surround
friendly_name: Denon AVR-X1300W
supported_features: 69004

ok, it definitely works for me on latest pre-release build with the same attributes.
If you are still on Beta 16 version, next release (Beta 17) should be rolling out later today or tomorrow, so let's see if it works after the release.
Thanks for providing the info!
Sure b16. Will try b17 as soon as I can (also looking for the new surveillance camera still picture delay feature
)
Did you release b17? Can't find it on playstore.
Rollout has began earlier today, so it might take up to 24 hours to reach all devices.
Can confirm it does work fine.
This raises two more questions though:
a) Is there a way to have a +/- as moving the slider is very laggy, and not very precise, so moving a tiny bit can result in WAY too loud volume
b) Is there a way to automatically bind with a special BT device (denon receiver in my case) when i start an app like Spotify. I don't know why, but it's disconnected every time I start the app, and i need to go to settting - bluetooth and reconnect again.
BTW: Media cover logo sometime will not update at all …
Here's a screen shot of my "testing" screen: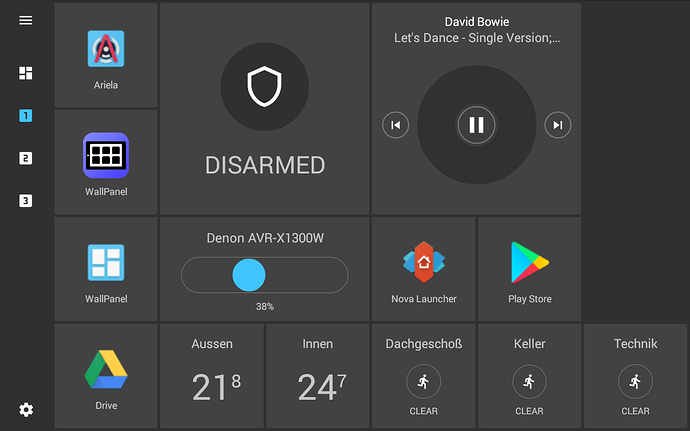 Hmmmm can't believe only just 2 votes for this addition to the media widget…
This topic was automatically closed 30 days after the last reply. New replies are no longer allowed.