New icons
Over 5,000 new icons added with extra icon packs. This took a bit of work, but now icon packs are added in a generic way, so it would be possible to easily update or add new packs in the future.
Following optional icon packs are available in this version (configurable in Settings):
Directions for text-based configuration are available in the docs.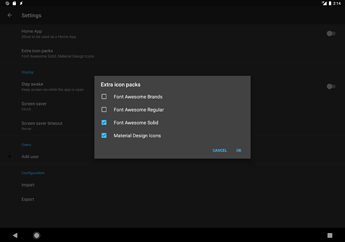 Bug fixes
Light items do not show correct state and impossible to turn on/off when bound to Room widget element
Gauge widget decimal text size is incorrect on some devices
Allowing any file type for import/export picker to avoid issues without un-selectable file on some devices